Cenon CAM - Software to make Hardware




Cenon is the leading manufacturing software for Apple computers, and never has to leave your side - from Design (or data-import) via pre-production to the control of the machine. With Cenon all manufacturing steps can be accomplished in one easy to use tool.

Versatile pre-production abilities with a logical workflow and speedy machining make Cenon a strong partner even in industrial competition. With Cenon's clean and state-of-the-art user interface on Apple Mac OS-X, working with Cenon is fun.






Cenon CAM

Cenon has been developed with a focus on flexibile manufacturing for the industrial sector as well as for model-making and sign-making. Cenon makes it possible to address a host of different tasks in one easy-to-use program, without making compromises.




Engraving and Pick-Out

For fine engravings, Cenon provides an advanced engraving feature, the Pick-Out. The Pick-Out is perfecting tight narrowings (like serifs) in 3-D by adjusting the immersion depth of the conical engraving tool. A must have for all delicate engravings.




Camera+Targeting

This power-feature for flexible large scale production allows the recognition of location, rotation, and even deformation of a work-piece by using a camera mounted on the machine.




Reliefs

For making Embossing Tools, Coins, or Furniture, the relief function of Cenon can be applied. It turns the shades of an image into a three-dimensional elevation profile.
The Icon shows a magnified section of a woodcarving, reproduced with Cenon.




Electronics, Rapid Prototyping of PCB

Cenon is a strong tool for rapid prototyping of printed circuit boards without using chemicals. On top of that Cenon is versatile in the production of front-panels and other electronic parts. Camera+Targeting now allows automatic recognition of the workpieces.


Cenon Manufacturing Systems

Machining Systems with Cenon CAM.
Version 5.0.4
Key Features
| | |
| --- | --- |
| | Import of vector data: DXF, HPGL, SVG, PostScript, PDF, Gerber, ... |
| | Import of scanned data: TIFF, GIF, JPEG, ..., Vectorization |
| | Export of vector data: DXF, Gerber, HPGL, PostScript, PDF, ... |
| | Editing and Vector-Design |
| | Mass Customization features |
| | Pre-Production, Inlays, Reliefs, Pick-Out, Contour-Filling, ... |
| | Batch Production, Camera gauging, ... |
| | interpolation of up to 3 axis (4th tangential axis), circular axis. Flexible configuration of switchable options. |
| | More Features |
Options
Platforms
| | |
| --- | --- |
| | Apple, Mac OS X |
Hardware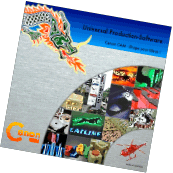 Download Brochure as PDF [6 MB]
---

Oct 2020
New: Cenon CAM 5.0.0 + Composite-Window, Machine-View, and much more
Jan 2020
New: Cenon CAM 4.1.4 + minor improvements
Aug 2018
New: Cenon CAM 4.1.3 + minor improvements
Dec 2017
New: Cenon CAM 4.1.2 + DXF-Import, DIN-Import, SVG-Import, Camera+Targeting, Threads, ...
Apr 2017
New: Cenon CAM 4.1.0 + Run-Time Panel, Scroll-Zoom, ...
Nov 2016
New: Cenon CAM 4.0.5 + Mac OS 10.12 (Sierra), and improvements, ...
Feb 2016
New: Cenon CAM 4.0.4 + Mac OS 10.11 (El Capitan), plenty of improvements, ...
Feb 2015
New: Cenon CAM 4.0.3 + Mac OS 10.10 (Yosemite), plenty of improvements, ...
Feb 2014
New: Cenon CAM 4.0.2 + Mac OS 10.9 (Mavericks), Optimization, Relief-Preview, ...
Jun 2013
New: Inquiry Form for a Cenon Machining System
Jan 2013
New: Cenon.com, Cenon.net
Aug 2012
New: Cenon CAM 4.0.0 + SVG-Import, 64-Bit, i-cut Import, Embedded CNC, ...
Mar 2012
New: Cenon CAM 3.9.6 + now available, in focus: Engraving with Pick-Out
May 2010
New: Cenon CAM 3.9.1
Jun 2009
New: Camera+Targeting + automatic recognition of workpieces
Jun 2009
New: Cenon CAM 3.9


© Cenon GmbH - the sense of motion